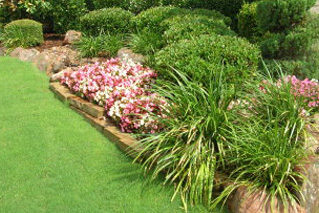 Members of our experienced team are available to offer you guidance, instruction and expertise as, together, we prepare landscape ideas designed to delight your senses and enhance the value of your property.
When you are ready to meet with one of our experts, please provide us with the following materials and information so we may better assist you.
1. The dimensions (gathered through the use of a tape measure) the area(s) for which you wish designs. Please remember to cite all windows, doors, current walkways, air conditioners, utility meters, etc.
2. Indicate the direction the house faces (because all plants have particular light requirements).
3. Photographs of the house, buildings, and/or area(s) of interests. NOTE: If possible, please provide images showing both the "close-ups" of potential bedding areas, as well as the scope of your property
4. A list of plants you've admired (so we have an idea of your color and textural tastes).
5. Any photograph of landscaping in previous properties you've owned and appreciated.
Please note this is a FREE IDEA service, separate from our landscape DESIGN service, in which a charge does apply.
Thank you for taking the time to gather these materials. We look forward to working with you.